for Sustainable Manufacturing
3D printing of sustainable, eco-friendly products, using environmentally friendly materials.
We use biodegradable, compostable or recycled filaments only.
We create products responsibly and in accordance with the principles of the Circular Economy.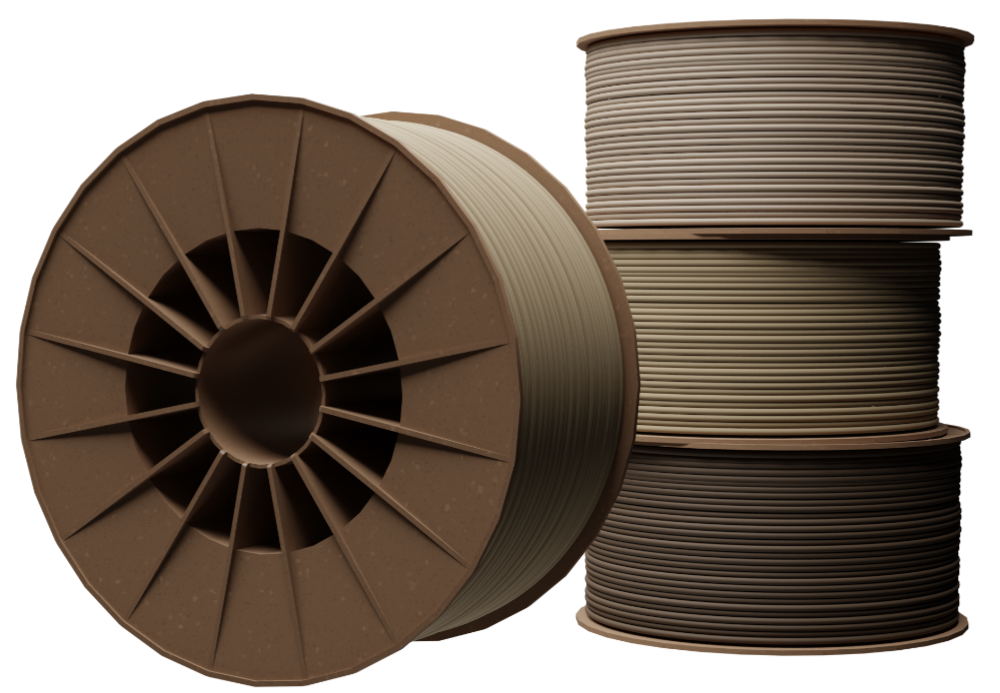 3D printing from eco-friendly filaments
We create everyday, decorative and home decor items using 3D printing technology and eco filaments. Our material portfolio includes biodegradable, compostable or recyclate materials. We do not use any other plastics classified as "forever plastics" or those that do not meet the principles of the circular economy. Our goal is to implement the zero-waste ideas into 3D printing and create new eco-friendly standards in the creation of various kinds of applications.
We constantly look for eco-friendly alternatives for traditional "forever plastics", that are made of petroleum-based ingredients. We believe that the future of industrial manufacturing are bioplastics – materials that are made of biodegradable biopolymers, doped with natural, raw materials (like wheat bran, wood, algae, flax or hemp). We also use recycled materials, giving them new life in terms of industrial applications. We focus on 3D printing and providing eco filaments for it as the least invasive method of modern manufacturing.
We don't sell filaments. We make useful things from it.

Manufacturer of antibacterial materials, including 3D printing filaments, doped with copper nanoparticles. The materials combine polylactide and a patented nanocopper additive. Registered by the FDA, eliminates over 99.99% of fungi, viruses, bacteria and microorganisms. The materials provided by Copper3D comply with EU standards No. 10/2011, No. 1935/2004 and No. 2023/2006. Clinically tested on dentures with excellent results. Copper3D comes from Chile, but the filaments are produced in the Netherlands (EU) according to ISO 9001/2015.

One of the largest manufacturers of filaments for 3D printers in Europe, has nearly 70 types of materials in its offer. In addition to a very wide range of technical and high-performance filaments, Spectrum develops a line of ecological filaments, which on the one hand are biodegradable, and on the other hand provide very high mechanical strength and temperature resistance. Spectrum eco filaments match many industrial class filaments with their properties. The company comes from Poland (EU) and manufactures all its products on-site.

ROSA3D is a brand of filaments created by ROSA PLAST - a company with over 40 years of experience in the plastics processing industry. One of the largest companies producing materials for 3D printers in Poland and increasingly recognizable in Europe. Has a very wide range of materials, focused on eco filaments. Among them there are filaments fully compostable. ROSA3D specializes in decorative PLA - including multicolored. In this respect, it is the largest producer in Europe. The company comes from Poland (EU) and manufactures all its products on-site.

Grupa Azoty S.A. is the leading Polish chemical industry company. It was established in 1927 as one of the most modern factories in Europe at the time. Currently, Grupa Azoty is the major producer of fertilizers, plastics, chemicals, oxo alcohols and pigments. For several years, Grupa Azoty has been developing its own line of materials for 3D printers, which consists of technical and high-performance filaments, as well as fully biodegradable and compostable materials based, for eg. on thermoplastic starch. Materials of this type dissolve in water or soil, leaving no harmful substances.
We make 3D printing eco-friendly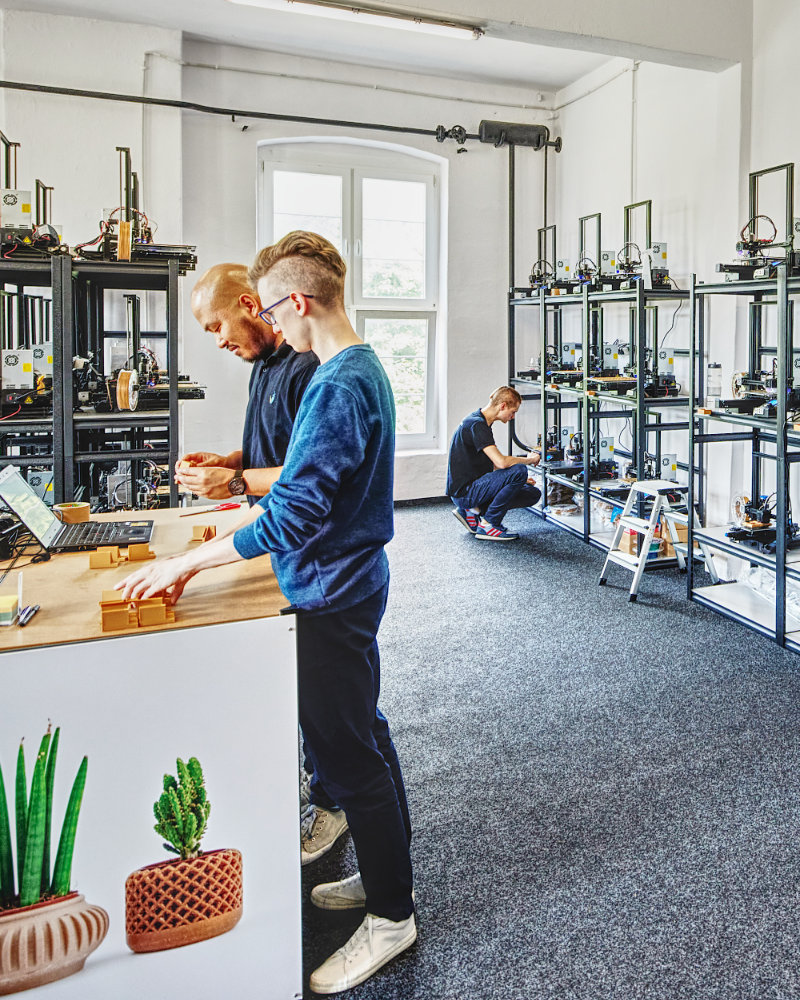 GREENFILL3D is a comapny making things using eco filaments. We design and manufacture advertising, decorative, home decor and everyday-use applications in 3D printing technology using bioplastics or recycled materials. We search for ecological alternatives to popular plastics, which are extremely difficult or impossible to dispose of. Our mission is to replace so called "forever plastics" with eco friendly filaments and use them where they have significant advantage.
Our manufacturing plant is located in Łódź, Central Poland (EU). We have over 70 3D printers adapted to continuous work with various kinds of special eco-filaments doped with natural raw ingredients like wheat bran, wood, algae, flax or hemp, as well as recycled filaments like rPLA, rPETG among others. 3D printers are modified and rebuilt by us to handle serial production – thousanda parts per month, depending on the size and geometry.
GREENFILL3D was established in 2021, while our team originates from another polish company – CD3D, operating in the area of additive manufacturing since January 2013.
We have a team of qualified designers who can transfer any idea from the concept level to the stage of additive manufacturing and its final implementation. We also provide comprehensive post-production and full colorization of finished 3D printed parts.