We provide sustainable, eco filaments for 3D printing, based on natural ingredients or recycled materials.
We have created the world's first filament for 3D printing based on wheat bran.
We implement the zero-waste ideas into 3D printing and create eco-friendly products.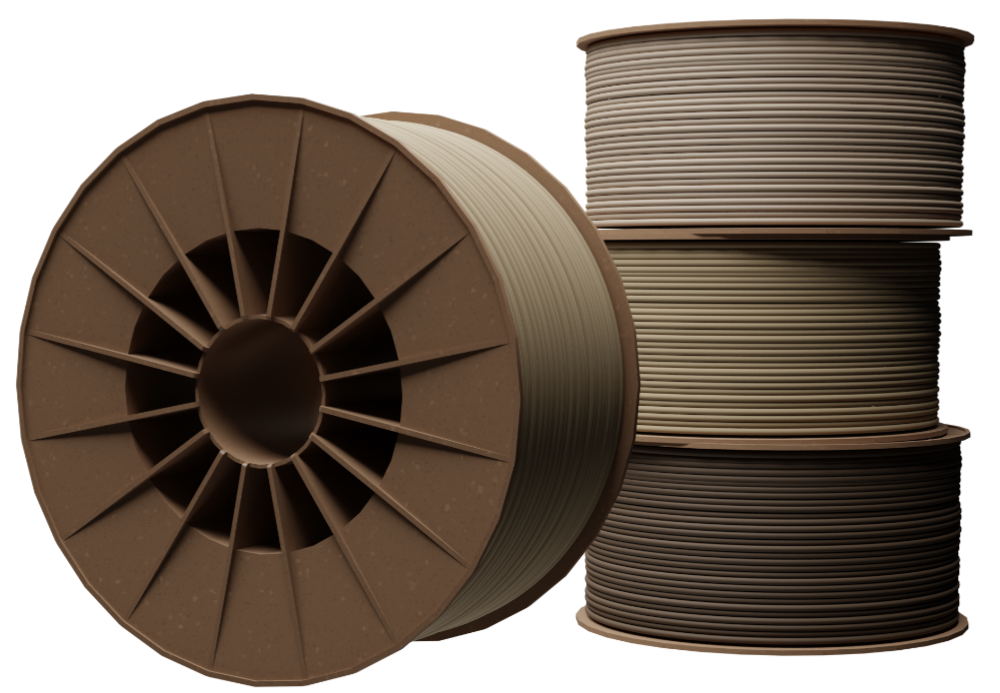 Eco filaments for 3D printing
We provide eco filaments for additive manufacturing, based on natural and recycled materials. Our goal is to implement the zero-waste ideas into 3D printing and create new eco-friendly standards in the creation of everyday items.
We constantly look for eco-friendly alternatives for traditional "forever plastics", that are made of petroleum-based ingredients. We believe that the future of industrial manufacturing are bioplastics – materials that are made of biodegradable biopolymers, doped with natural, raw materials (like wheat bran, wood, algae, flax or hemp). We also use recycled materials, giving them new life in terms of industrial applications. We focus on 3D printing and providing eco filaments for it as the least invasive method of modern manufacturing.
The main problem that GREENFILL3D intends to solve is the growing demand of companies for eco filaments in line with the assumptions of green marketing and the zero waste concept. The solution is a response to the needs of companies looking for alternative materials and methods of production of POS materials and advertising items, although we do not limit ourselves to only this one type of application.
New  GREEN generation of POS
We create innovative advertising stands (POS) that go beyond standard solutions. We replace cardboard or plywood with 3D printed parts of eco filaments – bioplastics or recycled materials. Our designs combine full geometric freedom with natural, living plants.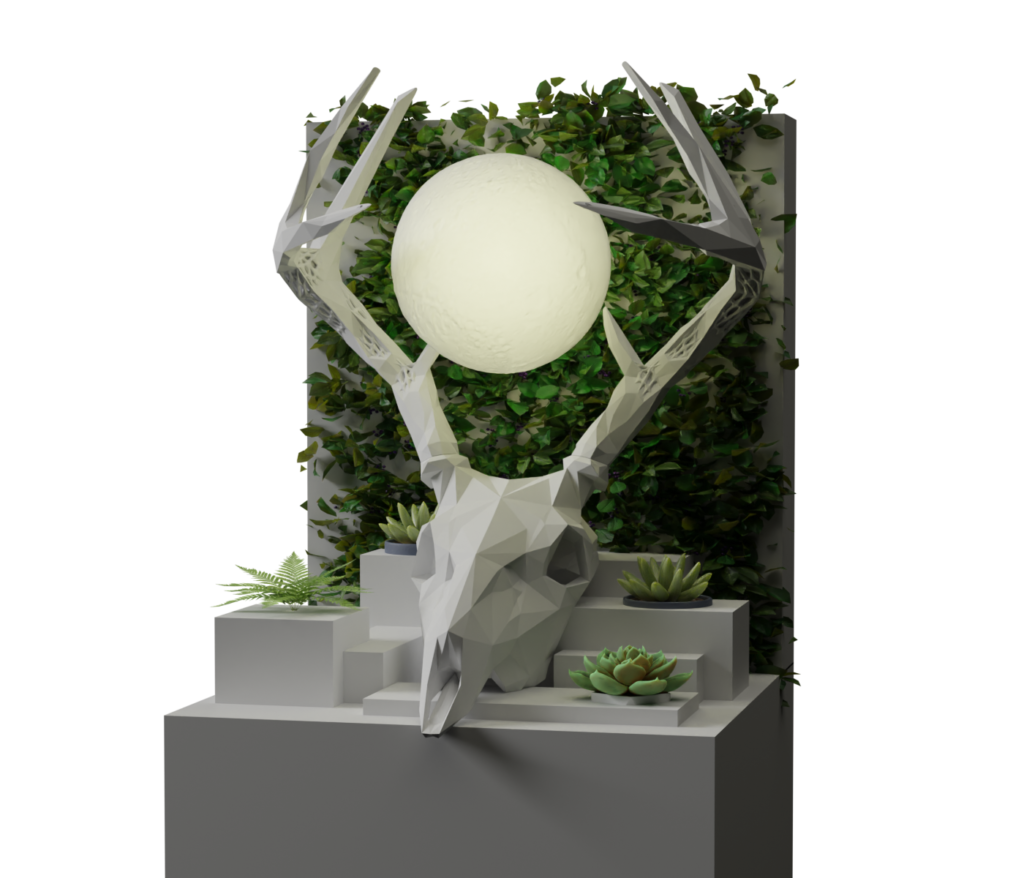 We make 3D printing eco-friendly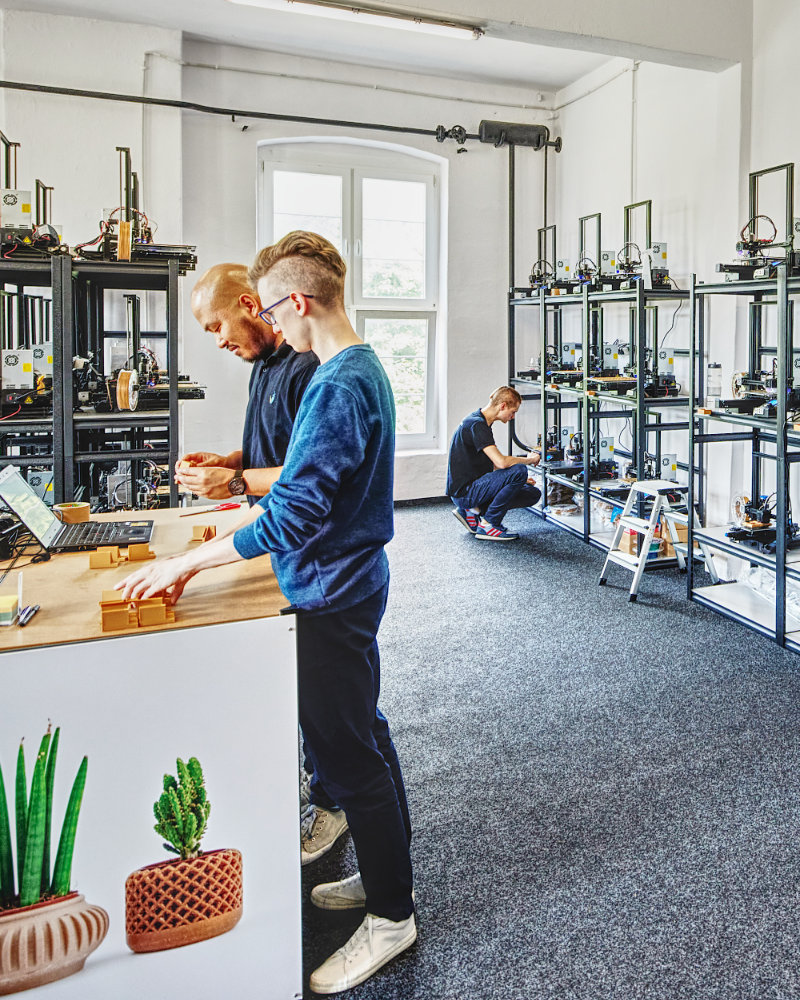 GREENFILL3D is a startup providing eco filaments for 3D printing industry, as well as making advertising or everyday-use applications in 3D printing technology using bioplastics or recycled materials. We search for ecological alternatives to popular plastics, which are extremely difficult or impossible to dispose of. Our mission is to replace so called "forever plastics" with eco friendly filaments and use them where they have significant advantage.
Our manufacturing plant is located in Łódź, Central Poland (EU). We have over 70 3D printers adapted to continuous work with filaments doped with natural raw ingredients like wheat bran, wood, algae, flax or hemp, as well as recycled filaments like rPLA, rPETG among others. 3D printers are modified and rebuilt by us to handle serial production – several thousand parts per month, depending on the size and geometry.
GREENFILL3D was established in 2021, while our team originates from another polish company – CD3D, operating in the area of additive manufacturing since January 2013.
We have a team of qualified designers who can transfer any idea from the concept level to the stage of additive manufacturing and its final implementation. We also provide comprehensive post-production and full colorization of finished 3D printed parts.