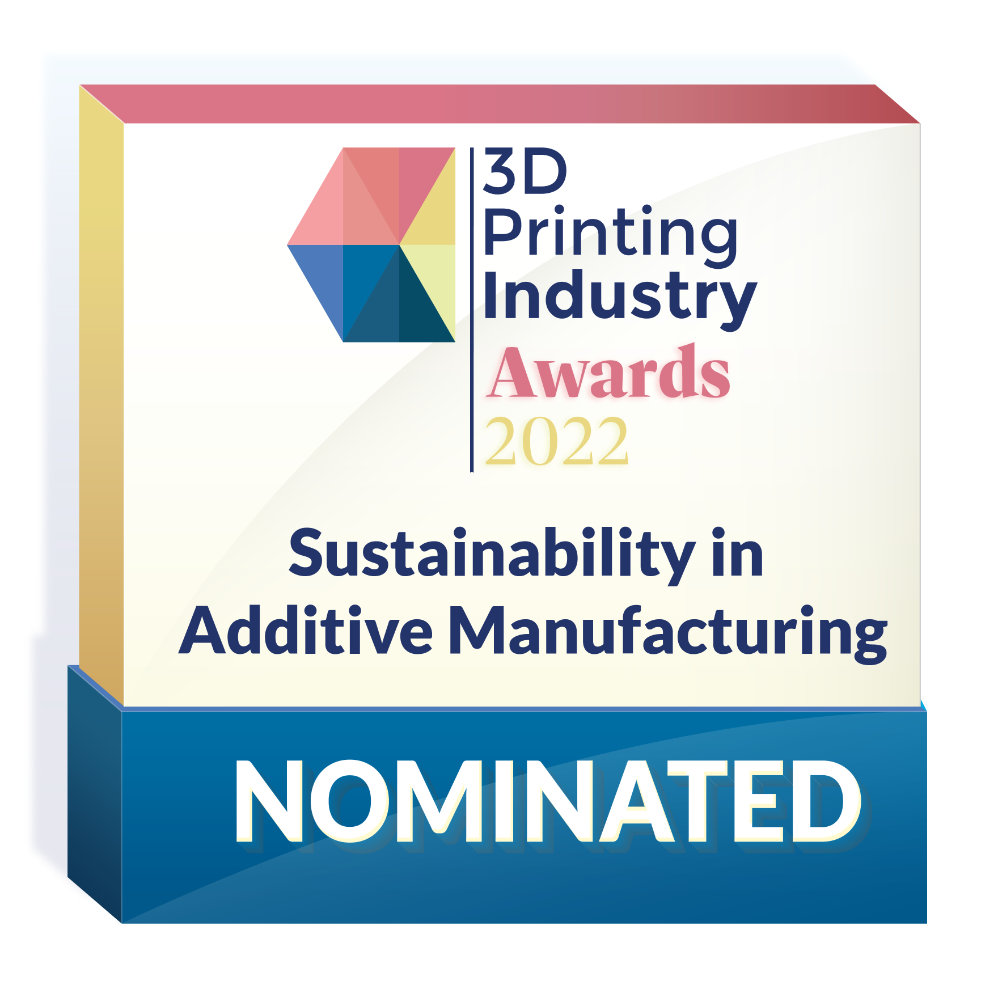 Łódź, 01.12.2022
GREENFILL3D – is nominated by the readers of the 3D Printing Industry website in the most prestigious awards of the global 3D printing industry – The 3D Printing Industry Awards 2022 in the Sustainability in Additive Manufacturing category. GREENFILL3D is also the only Polish company among all the nominees in this year's edition of the awards.
The 3D Printing Industry Awards competition started in 2016 and is organized by the 3D Printing Industry (3DPI) portal. 3DPI is one of the world's largest information platforms for the additive manufacturing sector with over a million readers per month. It has been operating on the market for over ten years, and among the publicists there are leading names from the global 3D printing industry.
Almost 200 companies and individuals have been nominated for the awards, divided into 20 different categories. This year, the 3DPI editorial staff received over 30,000 submissions for the awards, so being among the final 200 in total and in the top 10 in terms of a specific category is a great achievement in itself. In addition to GREENFILL3D, the Sustainability in Additive Manufacturing category includes: AMGTA, Fillamentum, Fishy Filaments, GreenGate3D, IperionX Critical Minerals, MolyWorks, MfgPro230xS (XYZPrinting), Polymaker and Prusament (Prusa Research).
This is how Michael Petch, the longtime editor-in-chief of 3DPI and one of the most famous figures in the global 3D printing industry, describes participation in the competition: "The winners (and shortlists) of the 3D Printing Industry Awards are decided by readers. We are very grateful for the time and thought they put into selecting the winners. However, this is clearly not just a "competition to win" – reaching the shortlist is no small feat."
Readers have until December 10, 2022 to vote for the winners.
On Tuesday, December 13, 2022, the winners will be announced during the live stream:
Subscribe to 3DPI YouTube channel 3DPI and receive a notification when the event starts.
---
About GREENFILL3D
GREENFILL3D develops innovative additive manufacturing solutions based on natural materials. The company's goal is to implement the Zero-Waste idea for 3D printing and to create new ecological standards in the creation of everyday objects. GREENFILL3D operates on the border of three areas:
processing of ecological thermoplastics based on biodegradable or recycled materials, doped with natural ingredients (e.g. wheat bran)
additive manufacturing with the use of the above-mentioned materials
design and production of own products, including advertising materials and POS.
The GREENFILL3D team comes from the Polish company CD3D (www.centrumdruku3d.pl), operating in the area of additive manufacturing since January 2013.
Media contact:
GREENFILL3D Sp. z o.o.
36B Mikołaja Kopernika Str.
90-552 Łódź, Poland, UE
Phone: (+48) 537 766 266
e-mail: info@greenfill3d.com