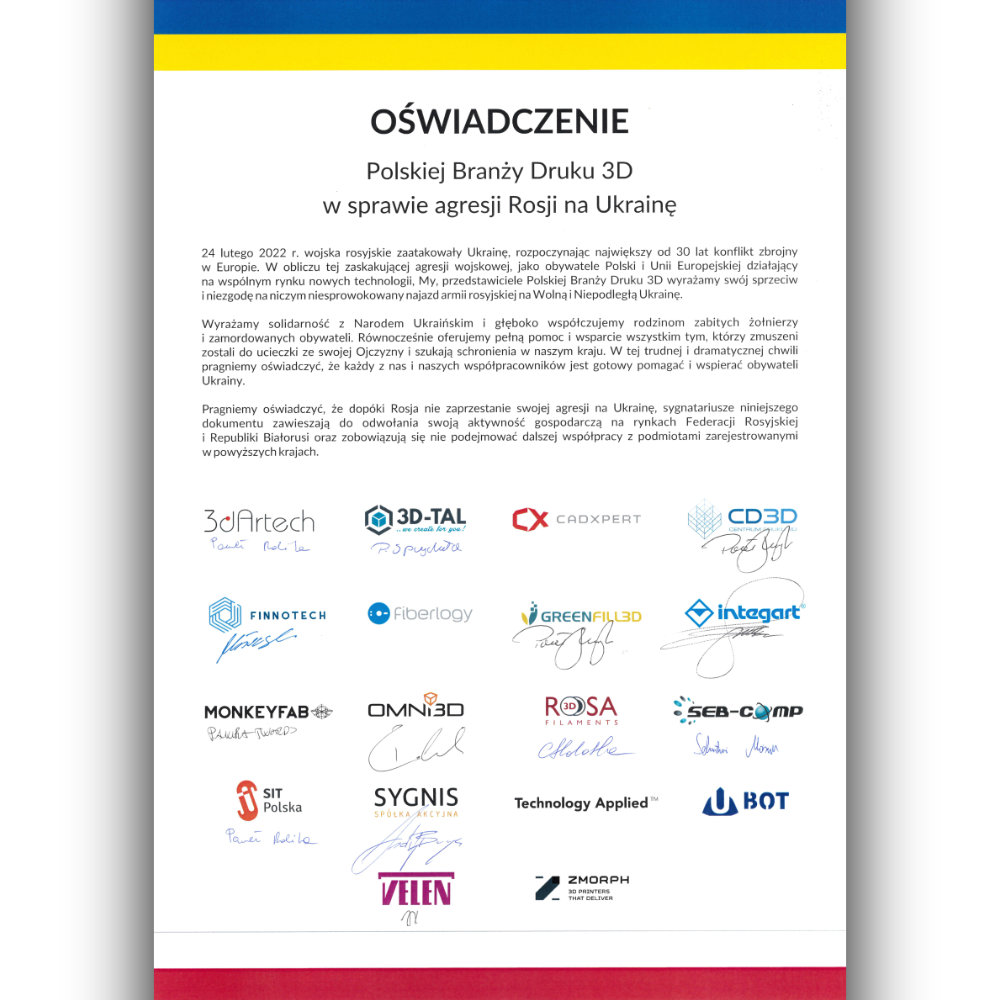 Warszawa, 14.03.2022 r.
On March 14, 2021 at CIC Warsaw, located at VARSO PLACE at Chmielna Str. in Warsaw, representatives of the Polish 3D Printing Industry met to sign a joint statement on Russia's aggression against Ukraine. Representatives of 13 companies submitted their signatures in person, and 5 others signed them electronically. The statement condemned the actions of the Russian Federation towards the Ukrainian Nation and declared the suspension of any economic activity in the markets of the Russian Federation and the Republic of Belarus.

THE STATEMENT:
On February 24, 2022, Russian troops attacked Ukraine, starting the largest military conflict in Europe in 30 years. In the face of this shocking military aggression, as citizens of Poland and the European Union operating on the common market for new technologies, we, representatives of the Polish 3D Printing Industry, express our opposition and disagreement with the unprovoked invasion of the Free and Independent Ukraine by the Russian army. We express our solidarity with the Ukrainian Nation and deeply sympathize with the families of the killed soldiers and murdered citizens. At the same time, we offer full help and support to all those who have been forced to flee their homeland and seek refuge in our country. At this difficult and dramatic moment, we would like to state that each of us and our associates is ready to help and support the citizens of Ukraine.
We would like to declare that as long as Russia does not cease its aggression against Ukraine, the signatories of this document suspend their economic activity on the markets of the Russian Federation and the Republic of Belarus until further notice and undertake not to undertake further cooperation with entities registered in the above countries.
GREENFILL3D was one of the signatories of the statement.
---
About GREENFILL3D
GREENFILL3D develops innovative additive manufacturing solutions based on natural materials. The company's goal is to implement the Zero-Waste idea for 3D printing and to create new ecological standards in the creation of everyday objects.
Media contact:
GREENFILL3D Sp. z o.o.
36B Mikołaja Kopernika Str.
90-552 Łódź, Poland, UE
Phone: (+48) 537 766 266
e-mail: info@greenfill3d.com